20 years after, Ilorin stands still for Ambassador Gobir
Date: 2016-11-29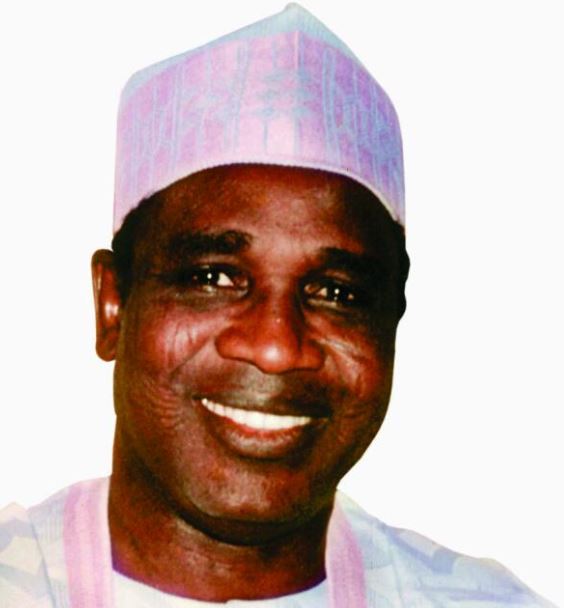 Twenty years ago, Ambassador Abubakar Garba Gobir, former private Secretary of the late Premier of Northern Region and Sardauna of Sokoto, Sir Ahmadu Bello, bade the world farewell. AHMED 'LATEEF attended the late diplomat's remembrance prayer in Ilorin on Saturday.
It was exactly 10am on Saturday around Gambari Junction in Ilorin, the Kwara State capital. The atmosphere was relatively cool and calm. From up Ita-Ajia Area, which directly connects Gambari, Okelele Junction, there was no sign that Ilorin was agog, though traffic built up in those areas despite the fact that it was Saturday, a day usually devoid of heavy traffic.
From Balogun Fulani Junction, which links Gambari up to Sobi Junction, the sign was palpable. Intermittent movement of both jalopies and chariots and deafening horns emanating from the cars with attendant traffic was discernible.
But around Gambari Junction, a short distance to the ancient Gobir Compound, vehicles lined up in multitudes while armed and unarmed security personnel deployed in the area had hectic time controlling the unprecedented traffic.
The growing traffic of human and vehicular movement forced people, especially motorists on the roads leading to that Junction to ply alternative routes in the adjoining areas to avoid being caught in the traffic web.
Understandably, it was all for the 20th remembrance prayer of late Ambassador Abubakar Garba Gobir, who rose to the pinnacle of career in civil service as Federal Permanent Secretary but died years after his voluntary retirement from the service.
At the prayer session held inside the Gobir Compound, dignitaries from different walks of life poured in torrent as the stories about the deceased life and times resonated.
The eminent personalities in attendance included the Senate President, Dr Abubakar Bukola Saraki, represented by Director General of his ABS Mandate Office, Alhaji Abdulwahab Oladimeji Issa; Speaker of Kwara State House of Assembly, Dr Ali Ahmad; member of the House of Representatives for Ilorin East and South Federal Constituency, Dr Abubakar Amuda Kannike; representatives of the Emir of Ilorin, Alhaji Ibrahim Sulu-Gambari; representatives from the Emir of Daura in Katsina State; National President of the Ilorin Emirate Descendants Progressive Union, Alhaji AbdulHameed Adi; Zana of Ilorin, Engineer Yusuf Olanrewaju Sagaya and Alhaji Kola Belgore among others.
Alhaji Yakubu Olayiwola Gobir, son of the late diplomat was on ground alongside others to receive creme de la creme that graced the occasion.
The Chief Imam of Ilorin, Dr Muhammad Bashir, led the prayer in company of other renowned Islamic Scholars.
Dr Bashir, who recalled the sojourn of the late Ambassador Gobir, described him as an epitome of civility and kindness and prayed Almighty Allah to forgive his misdeeds and grant him eternal rest.
However, the atmosphere became charged when a popular Islamic oral traditionalist, Alfa Gbededun, took over the stage and rendered a dirge in memory of the late son of first Waziri of Ilorin.
The dirge was sympathetic and hypnotic that did not only shook the ground but if possible could raise the dead from the grave going by the beautiful rendition, which reminded all present of the inevitability of death.
As the oral traditionalist was singing the dirge, some attendees who were moved to tears, were seen intermittently mopping their faces with handkerchiefs.
In his brief sermon, the Grand Mukadam of Ilorin, Sheik Suleiman Dan-Borno, emphasized the importance and efficacy of some chapters in the holy Quran and urged true believers to prioritize reciting them.
He identified the chapters as Suratul (s) Fatia, Yasin, Dukhan, Wakiah, Mulik, Kaothar, Kafirun, Ikhlas, Falaq and Nas and admonished those with faith in Almighty Allah to read them all the time in order to receive bounties from the creator and prepare them for eternity.
Dan-Borno, who described late Ambassador Gobir as a worthy son of Ilorin Emirate that demonstrated humility throughout his lifetime, also paid tribute to the late Sardauna of Sokoto, Sir Ahmadu Bello.
The cleric tasked those in positions of authority to look after the welfare of the less privilege and warned them against stinginess and self-centredness.
Commenting on the late diplomat, the Senate President said he was a man of the people whose contribution to Nigeria and Ilorin in particular would be remembered for a long time to come.
Represented by Alhaji Abdulwahab Issa, Saraki said, "I see Ambassador Gobir as a role model to all other personalities in Ilorin Emirate, that wherever anybody is, whatever position anybody occupies, needs to do good so that posterity will continue to judge them. So, I congratulate Ambassador Gobir for being judged positively even after death".
Similarly, the Speaker of the Kwara State House of Assembly, Dr Ali Ahmad, noted that Ambassador Gobir was loved by his people despite the two decades of his sojourn to the next world, adding that his life was a lesson for those who would exemplify it.
"He was one of the icons of this town. He loved his people and you can see that even after his demise for so many years, his people are showing this love. The crowd here, from far and near, defies any religion, political party and even geographical locations. So, this is a man that is loved by his people because of good deeds that he had done. His life and even at death, is a lesson for all of us. We should only aspire to be like him. We wish him God's forgiveness", the Speaker said.
In the same vein, A member of the House of Representatives, Dr Kannike said of the late retired Federal Permanent Secretary, "Like earlier testified to by all the people that were old enough to really appreciate him, he was a man that was the pride of the city of Ilorin. He was one of the first elites who carried the flag of Ilorin. He was a very peace loving man and also used his wealth. I think this is something he inherited from his own father. He used his wealth to help the others.
"He was pinnacle of public service as an ambassador and permanent secretary in the Federal Service. He served diligently and was a son of Ilorin that everybody was proud of. I remember very well on the day his demise was announced, the whole of Ilorin was in a sorrowful and mournful mood. I pray that Allah will continue to have mercy on him and grant him Al-Janat firdaus and all our late fathers who were the precursors of what we are benefiting right now in the country and in the city of Ilorin".
For IEDPU National President, Alhaji AbdulHameed Adi, "the late Gobir was a colossus during his lifetime. He was very helpful. We relied heavily on him. He helped so many indigenes of (Ilorin) to occupy important places. He was accessible during his lifetime, very generous and was more or less like a philanthropist. We have been missing him and we will continue to miss him. We wish him eternal rest. Other wealthy individuals in Ilorin should emulate him".
The Chief Executive Officer of Yolas Consultants, Engineer Sagaya, said "Ambassador Gobir was a good teacher, good and very kind. He was particularly a mentor to me. I was particularly closed to him. He loved me so much and l love him as well. I cannot imagine that it is 20 years ago that he passed on already. It looked like yesterday. Because I still remember him with his good deeds. He did a lot for many people and indeed a lot for me. The only thing I can wish for him is for Almighty Allah to grant him Al-Janat firdaus. May He protect the family, the children and all the members of Gobir family".
The incumbent Sarkin Gobir of Ilorin, Alhaji Ahmed Yusuf Gobir, who spoke on the late career diplomat, noted "Al-Amdulilahi that God made this day possible, and we thank everybody that has come to join us in remembering him (late Ambassador Gobir) in prayer. Among other virtues that people have said about him, what I cherished most was his humility. That is one thing that underscored his life.
As a seasoned administrator and shrewd career diplomat, late Gobir served as District Officer in Kano and Kafanchan and Private Secretary to the Premier of the Northern Region, Sir Ahmadu Bello (Sarduana of Sokoto).
He was thereafter deployed to the Northern Nigeria House in Britain where he rose to the post of Head Chancery and also served on two separate occasions as Director in the Federal Ministry of External Affairs, Lagos.
In the course of his career as a diplomat, he was Nigeria's Ambassador in Togo, India, Burma, Thailand, Srilanka, Sweden, Norway , Finland and Denmark .
He similarly worked as a Federal Permanent Secretary in the Ministries of Mines and Power, Defence, Federal Capital Territory, Agriculture and Water Resources and voluntarily retired in 1988 after 35 years in civil service.