Gov AbdulRazaq swears in Sa'adatu Modibbo-Kawu, 2 other commissioners
Date: 2021-08-05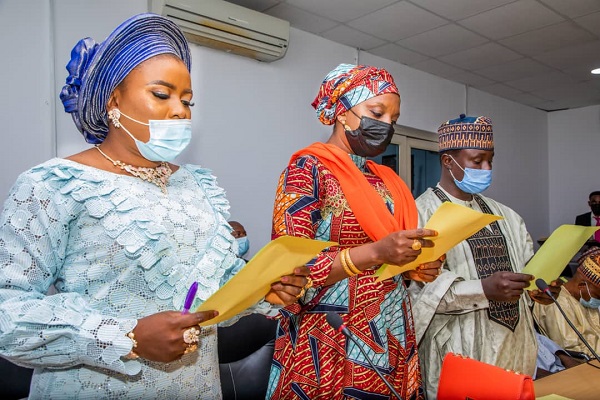 Kwara State Governor, AbdulRahman AbdulRazaq has sworn in three new commissioners with a call on them to redouble efforts to enable his administration deliver more dividend of democracy to the people of the state.
At the inauguration of the new commissioners, Governor AbdulRazq said his administration has achieved a lot in the area of fixing basic infrastructure and bringing governance closer to the people.
He advised the commissioners to dedicate themselves to serving the state's people who have entrusted them with their mandate.
AbdulRazq urged the cabinet members to be prudent, ensure teamwork, and sacrifice to achieve a greater Kwara State.
He explained that the administration is confronted with huge challenges of human capital and infrastructural development in the midst of dwindling revenue.
Governor AbdulRazq noted that there is an urgent need to lift as many people as possible out of poverty.
The Commissioners include Hajiya Saadatu Modibbo-Kawu,(Education and Human Capital Development), Mrs Bosede Olaitan, (Communication), Sabbah Musa Gideon,(Agriculture and Rural development)
Tag: Sa'adatu Modibbo-Kawu