Kwara CAILS Appoints New Public Relations Officer
Date: 2023-05-24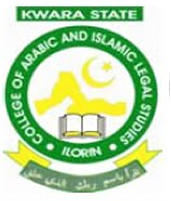 The Management of Kwara State College of Arabic and Islamic Legal Studies (CAILS), Ilorin has appointed Mr. Kadir Rasheed Arisekola as the new Public Relations Officer (PRO) of the College. Mr. Arisekola succeeded Mallam Abdul-Lateef Bolaji Yahaya who was recently promoted to the position of Deputy Registrar, General Services (SERVICOM, Legal and Information).
Mr. Arisekola hails from Yowere in Asa Local Government Area of Kwara State. He holds Bachelor in Degree in Biochemistry from Kebbi State University, Aliero, and a Master's degree (in view) in Occupational Safety and Health Management from South American University (JPTS).
Until his appointment, the new PRO was the Administrative Officer / Secretary at the Office of the Deputy Provost (Academic). His appointment takes immediate effect.
Signed
Abdul-Lateef Bolaji Yahaya ANIPR, MSM
Deputy Registrar, General Service
(SERVICOM, Legal, and Information).