NITDA engages Kwara ICT Stakeholders for Robust Digital Economic Development
Date: 2022-12-19
Recently Information Communications Technology stakeholders and practitioners in Kwara held an ICT Stakeholders' Engagement Programme with the National Information Technology Development Agency NITDA) in Ilorin, Kwara State.
The programme, organised at the instance of NITDA, is part of NITDA's continuous approach to creating fair and inclusive societies that provide equal opportunities through various programmes, projects, and policies of the Federal Government in order to give stakeholders an opportunity to express their views and opinions on matters related to the Agency's implementation of its mandate.
The Participants, including ICT experts, Government Representatives, Academia, Start-ups ecosystems, ICT Associations, Technology Solution Providers, Non-Governmental Organisations (NGOs), and relevant stakeholders in the Digital Economy Sector shared ideas on how the Kwara IT ecosystem should take advantage of the various opportunity and platforms being provided by NITDA to upskill, connect and build a robust network that will facilitate gainful collaboration among all stakeholders.
In his goodwill message, the Chairman of the Kwara State branch of the Nigeria Computer Society, Mr Bolakale Saka commended NITDA for the timely stakeholders' engagement.
He assured NITDA that "NCS Kwara will continue to do its very best as an independent professional body to facilitate State Government support for NITDA activities and to ensure appropriate delivery of NITDA programmes and intervention in the state"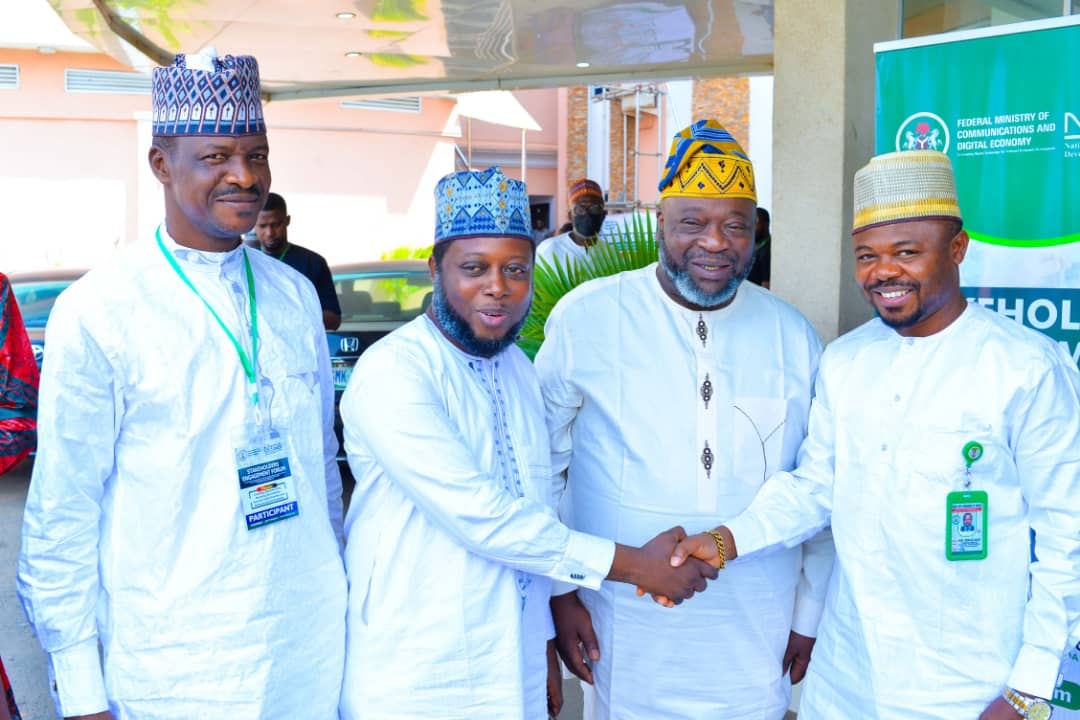 Mallam Kashifu Inuwa, Director General of NITDA, who was represented by the Director of Zonal Offices Directorate, Mr Babajide Ajayi, said that the Stakeholders' Engagement is a veritable platform to pool knowledge, experience, and expertise, and to co-create solutions, articulate strategies, and extend our services to all stakeholders, especially at the grassroots.
He said, "Throughout the twenty-one-year journey of the Agency, we have had to look continuously at our mandate, reset our vision, and invigorate our mission. We have moved from being a highly centralised organisation to a functionally decentralised Institution. Our aspiration is to be an Organisation closer to the stakeholders."
Speaking on the Agency's people-oriented programmes, Inuwa said, "under the supervision of the Ministry of Communications and Digital Economy and stakeholders, we have implemented programmes such as National Adopted Village for Smart Agriculture (NAVSA), National Adopted School for Smart Education (NASSE), Digital Literacy Capacity Training for Persons Living with Disabilities, support for ICT Innovation Hubs, the building of Community IT Centres, development State IT policies, and a host of other activities."
He said as the needs of the Digital Economy Ecosystem grow; the Agency has striven to respond appropriately. This has been demonstrated in the strategic actions the Agency has taken in the implementation of critical areas of the National Digital Economy Policy and Strategy (NDEPS). We are aware that we still have a lot to do. Therefore, we are committed to making further progress over the coming year, and we look forward to the continued support of all our stakeholders," he concluded.
On his part, the Commissioner for Business Innovation and Technology, Honourable Ibrahim Ajake, stated that the role of Digital Platform in entrepreneurship evolution cannot be overemphasized.
He added that digitalisation changes the economics of doing business across borders, bringing down the cost of international interaction and transactions. According to him, updated digital entrepreneurship knowledge and dynamics are one of the major ways Nigerian entrepreneurs can upscale their potential in the global market.
"I am confident that the stakeholder's engagement meeting will be of immense value to the ICT-inclined public and keep abreast with necessary opportunities to enhance market access in order to tap into the foreign exchange earnings," he noted.
The programme had about100 stakeholders present which include the Nigeria Computer Society, its Chairman Mr Bolakale Saka and Secretary Dr Isiaka Rafiu Mope, Prof Rasheed Jimoh of the Department of Computer Science, University of Ilorin; Mr Taofik Abdulkareem, CEO of Plat Technologies Limited; Mr Seun Bolaji of Seed Technologies; Mr Babs Iwarere of Earlyon Technologies; Mr Temi Kolawole, MD of Ilorin Innovation Hub; Mr Kamaldeen Kehinde and Mr Zulkifli Ibraheem of MalHub; Mr Deji Ajani of Opolo Global Innovation Limited; Mr Esinniobiwa Quareeb of Pacify Labs; and Mrs Hassanat Bello, Director Centre for Digital Economy, Kwara State University amongst others.