Technology, Processing Have Made Cassava Very Safe - Mr. Samuel Afolayan
Date: 2012-07-10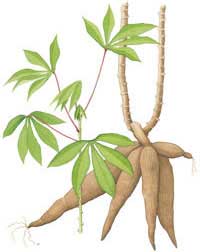 The Executive Director of Agricultural Management and Training Institute (ARMTI) Ilorin, Mr. Samuel Afolayan has rated the cassava-supplement baked food as richer and safer for consumption for diabetes' patients than the much-touted food with wheat flour base.
Afolayan, who was at Fufu, headquarters of Ilorin South Local Government Area (LGA) of Kwara state, said the varieties of the cassava grown locally are no longer dangerous due to the absence of cyanide in them. Besides, due to proper processing techniques, the cassava products have become safe for human consumption.
"We should all support the initiative of the Federal Ministry of Agriculture in the area of encouraging the use of certain percentage of cassava flour for baking in the country. I had tasted some of the baked food produced with this cassava flour and they are even better than the ones we are used to. We need to emulate the people of Bangladesh, who cultivate rice and can eat same three times a day. Our tongue will later adjust to what we produce."
The event was the Village Alive Development Association (VADA), organised by the ARMTI for villagers in the State in order to sensitise them on the inherent benefits in the association rather than solitary struggle for survival.
The programme which drew many villagers to the venue apart from being a capacity building endeavour was also aimed at encouraging the establishment of savings and credit scheme while proffering solutions to their challenges especially in the area of agricultural development.
The programme recently resuscitated under the leadership of the director will also be introduced to people of Elerinjare in Ifelodun Local Government Area (LGA), also Falokun-Oja and Apaola LGs.
According to the ARMTI boss, "cassava is less dangerous than wheat to diabetes patients. But the fact is that some olden days varieties of cassava were more dangerous and had health hazards due to the presence of cyanide in them.
Today, however, people consuming cassava understand the various processing methods that are not hazardous to health. Are you aware of a variety that people use in pounding like yam tubers?"
Afolayan while equally rating the local rice as better and richer in calories than the imported ones, warned of the consequences of continued importation of rice, just as he urges that some of the various relevant agric institutes should be mandated in the area of machine designing in rice shelling process.
He noted, "Our rice is better. What scares people away from the consumption of our rice is the pebbles in them. Therefore, relevant agencies should be asked to design de-stoning machines that could make the processing free of pebbles."
Alhaji Baba Bello represented the Emir of Ilorin, Alhaji Ibrahim Sulu Gambari at the event.