Re-GOV Abdulrasaq Susends Emir of Tsaragi for 6 Months
Date: 2023-11-18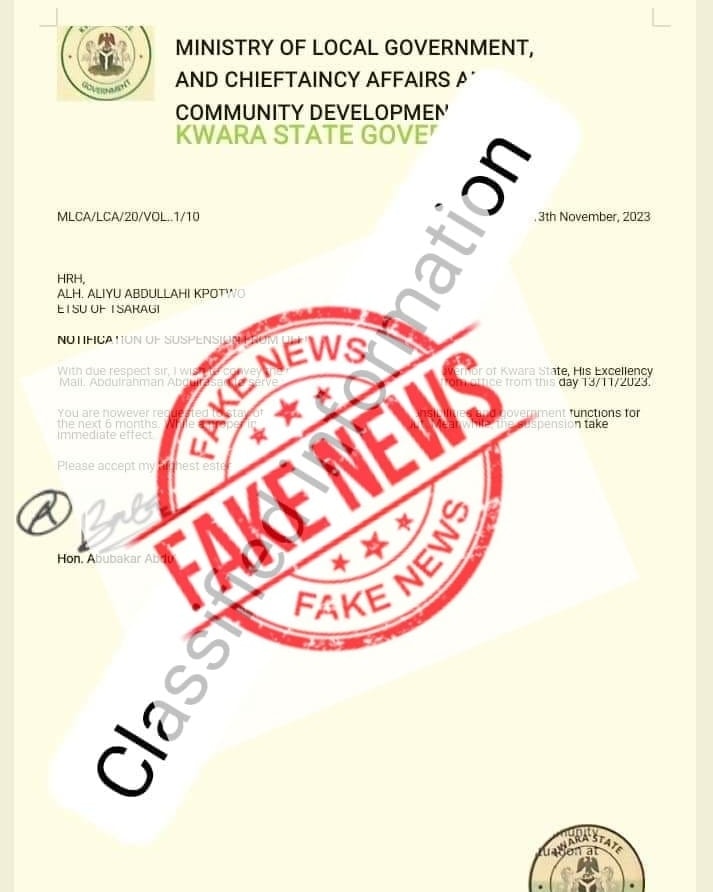 The attention of the Kwara State Government has been drawn to a malicious and fake news circulating on the social media purporting that the Executive Governor of Kwara State Mallam AbdulRahman AbdulRazaq (CON) has suspended the Emir of Tsaragi HRH Alhaji Aliyu Abdullahi from office for six months.
We state categorically that the story is fake news, intended by the writer and those sharing it to cause tension and create a bad blood between the State Government and our revered and respected Traditional Institution in the State. The agenda is dead on arrival.
The present Government has demonstrated so much respect and regards for Traditional Rulers in the State. This will remain so in line with the policy of Governor AbdulRazaq, who values the culture and tradition of our people.
The Governor, who enjoys so much good will from our respected monarchs and other leaders in the state, is a man of consensus and peace. This is a characteristic for which he is popular.
We advise the sponsors and purveyors of this fake news to desist, even as we request the security agencies to investigate this horrible development, which was clearly meant to cause disaffection in the state.
Signed:
Hon Abdullahi Abubakar Bata,
Honourable Commissioner for Local Government, Chieftaincy Affairs and Community Development.