OPINION: Muritala Awodun; The Maigida 'Star Boy' By Tajudeen Habeeb
Date: 2019-10-05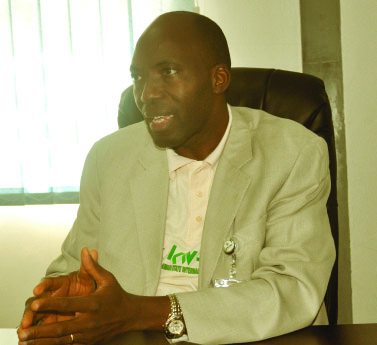 For keen followers of the Nigerian political discourse, 'Star boy' is the political sobriquet of Professor Yemi Osibanjo, the Vice President Federal Republic of Nigeria.
This is in consonance with his depth of knowledge of leadership, articulacy prowess, calmness, in addition to relentless and untiring movement in getting to the grassroots which is widely believed to inform his updated knowledge of Nigeria's problems and available solutions when necessary.
These rare qualities are assumed to be the magic wand which has impacted greatly on President Muhammadu Buhari's administration since its birth in 2015.
Like Professor Yemi Osinbanjo, the immediate past administration in Kwara state led by Abdulfatah Ahmed also had in its fold a star boy in Professor Murtala Awodun. Calm, diligent, intelligent, hardworking and achieving.
Sometimes, one finds it difficult choosing between Prof. Awodun and Dr. Muyideen Akorede, the one who sacrificed more for Maigida. While the former was boosting Maigida's meager achievement, Doctor Akorede was putting his reputation on the line to promote them and mask the failings. Both of them were about the only takeaways from that government. Thanks to their brilliance.
Prof. Awodun became a pronounced name in the Kwara governance circle. Note: Governance and not politics.
In the year 2015, he was appointed as the Chairman of the newly established Kwara State Internal Revenue Services (KW-IRS), and from then, he became a pillar on which the administration relied upon.
For those who have vast knowledge in leadership, it is generally believed that what becomes of any government achievement lies in its sustainability and not the immediate impact any policy or program bear on the citizens. That is why when discussing government policies, short and long term goals are the two terms mostly employed.
These two important goals are exactly what birthed the creation of the State Internal Revenue Service — to solve the immediate problem of shortage of funds and to lay a strong foundation for long term economic prosperity of the state. The former and the latter exactly is what Awodun has done for Kwara state through the parastatal he was appointed to manage with competence and diligence.
At the obvious state of reality, the era of going cap in hands to Abuja for the sharing of what is referred to as the "national cake" was becoming increasingly unattractive and something urgent was needed to be done.
Allocation was no more sufficient to govern the state and recession was eating deep into the affairs of governance in the country and the meager sums due to the states were not sufficient to meet up with the recurrent expenditure not to talk of capital expenditures as provided for in each state budget.
It became expedient that the government at the state level looked inward to find a way out. For states like Kwara with no known oil fields, the only thing to turn to was the possibility of maximizing our potential in population through tax.
So when the former government thought of an effective tax system, it was warmly welcomed, but as a governor, Maigida couldn't possibly be in charge of the execution; it necessitated the need for capable hands before Allah showed them His grace on one Prof. Muritala Awodun.
Awodun, who was the Director of KWASU Entrepreneurship Center then hit the ground running in a bid to save the state from her imminent economic collapse. He didn't just build a tax collection platform, but a system that is self-sustainable. He drives the institution towards the attainment of its set goal and within a year, it became a model for another state to copy.
It is truism that the last administration was that which could not be easily measured, it had been severally adjudged to be the worst in the history of the state that which I concur to a large extent, but notwithstanding, achievements like the setting up of the KW-IRS makes a strong case for him in consonance with the reality of the country during his tenure. Maigida owes this lifeline to Prof. Muritala Awodun's industry and courage.
The giant stride in that agency provides him with a platform for worthy engagement on his stewardship of the state.
May I equally say the little infrastructural drive of the government then, at least the significant ones were largely from the InfraFund as setup by Kwara Internal Revenue Service led by Prof. Awodun.
To compliment the state government's efforts, the inimitable Awodun stepped up the plate with various interventions in line with the agency's social responsibility in a bid to make the public feel the impact of their donations in taxes. The institution's massive drive on water, school support, and human capital development was commendable.
If I didn't know all, I was aware KW-IRS sponsored 100s of Artisans for further education at the State International Vocational Centre, Ajase -Ipo with further support for the acquisition of modern equipments and monthly stipends. Numerous were the initiatives of Prof. Awodun at KW-IRS.
If the Abdulfatah Ahmed- led government gave Kwara nothing, the state gained a fine and accomplished man in Prof. Muritala Awodun.
I have been faced with many questions and challenges when discussing Awodun, prominent among them is the allegation of corruption. While I am not his spokesperson and will not make an attempt to defend him on this, again, by the one who created my soul I have sworn; claims, especially mere and empty talks do not make conviction. Or even oven the truth. Legally, nothing as at today indicts him of culpability.
May I also say that I have never benefited anything personally from the man in question, but I have a small answer for you in one of the sayings of my mentor, Mallam Bolaji Abdullahi. He said, "No human is a saint, that in relation to corruption, on the scale of ten, one must try to be closer to zero than being closer to ten".
No human is a saint, Awodun is human. But he has served the state tremendously when he was called upon and he deserves some accolades for that giant stride, that which no one can play down.
Thanks to KW-IRS, we would have been talking of more debt compared to the one we are gnashing teeth over since the change of baton.
If I were Maigida, and I was asked what my achievement were as the governor of the state, I will say Prof. Muritala Awodun, Prof. Awodun, Prof. Awodun few times before I make a mention of Geri Alimi underpass, the state secretariat, and all other infrastructural drive through Kwara Internal Revenue Services. No doubt, Awodun was Abdulfatah's Star Boy.
I say thank you to him for the support KW-IRS rendered by empowering three students during my tenure as the Chairman NANS Kwara axis, under your leadership. On behalf of those students, I wish you the best in all your endeavors going forward.
For your sterling contribution to the state, I say God bless you as you embark on another journey.
My name is Tajudeen Habeeb. Like I have said, I am not Awodun's beneficiary or protege. I only don't know how to take my eyes off excellence no matter where it is coming from.