My biggest regret - Salahudeen Latinwo
Date: 2007-10-06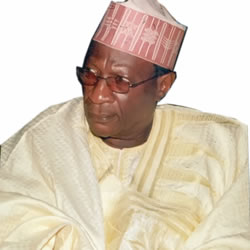 Although it is more than 23 years now that he was forcibly retired from the Air Force, Group Captain Salaudeen Latinwo could not hide the pain he felt by that act when Spectacles, this week, asked him to recall his days as an officer. He minced no words in saying that his forced exit from the force marked his biggest regret in life.


Latinwo was the military governor of Kwara State during the regime of General Muhammadu Buhari. He recalled that as a young man, he worked at the ministry of education, dreaming of becoming an aeronautical engineer when he was persuaded by the late Sardauna of Sokoto and Premier of the then Northern Region, Alhaji Ahmadu Bello, to seize the opportunity of recruitment of youths for training in Germany, to form the nucleus of the Nigeria Airforce.


He said, "There was this message from the Sardauna's office then that he would love to speak with some of us. He came and he told us about the idea of getting young northerners into the Airforce. Then, he was like a father to us and we had no choice. That was how we headed for Germany for the training.

"But when they started giving us uniforms, we said, 'No no no, we are not soldiers.' That was all we knew in Nigeria then; the Airforce was just being put together. But they said we only had to wear that for the first four months, then we would settled down to our individual specialty. If my parents had known that I was going to join the armed forces, they would have refused totally. We were in Germany for about three or four years before we came back to Nigeria."

Latinwo told Spectacles that the Airforce, which he joined at a very young age, was run like a family. He rose to the rank of Group Captain, and eventually became a military governor. But when he seemed to be at the pinnacle of his career, he was hacked out in a change of government which swept him and his idol, Major-General Muhammadu Buhari, out of power. He was then only 42 years of age. He told Spectacles how he felt like a fish out of water when he was confronted with the reality of being cut off from an institution he saw as a family.

He said, "It's like you were in a place which was like a family, and suddenly you are cut off. It was very painful. For the first two to three years, you would be dazed. When you leave the service you were already used to, moreso when you are just 42 years, it was very painful."


Latinwo added, "I would have loved to remain with the family I belonged to, but here I was with gun pointed at my neck and loads of allegations. I think I was lucky to escape with my life. The kind of separation I had was a matter of life and death; because no sooner was the government overthrown than the new government identified me as one of those poised to bring it down. But somehow, I came out with my life. I count myself lucky because not everyone that was picked up made it."


As a relatively young man forced out of the Airforce after the Buhari regime was overthrown, many would have expected Latinwo to jump on the train of party politics like his colleagues, particularly when Buhari himself joined the fray. But the Offa-born officer said he was too much of a conservative to partcipate in Nigeria's politics.


He said, "Buhari was operating on a higher pedestal, maybe he had more people to convince him to join politics. Perhaps he had more pressure. He is my boss, I don't want to criticise him; but if I honestly want to advise him, I would say, 'Sir, sit back and let them come and call you just like they did in respect of Obasanjo.' But somehow, things like this are very difficult, moreso when you are no longer operating under the same umbrella."


One thing that will always make Latinwo protest loudly is if you say the military destroyed Nigeria. He would tell you that rather than say it is the military, you should mention the specific regimes that came and pretended to correct the lapses, only to end up making things worse than they met it.


"I think the first and the second military regimes that came tried to make a change. But I think the problem came with a certain regime, and I want to crave your indulgence to use the word 'regime.' We had the regime of Yakubu Gowon, Muhammadu Buhari, Ibrahim Babangida and so on. And I want you to take note of a certain regime that said it came to effect a change for better, and then suddenly said it was sitting back and then started manipulating issues until we ran into problems.


"That was what we had with one or two regimes. The Murtala regime came and its focus was clear. You could mention the Buhari/Idiagbon regime, which came and said, 'Look, things are bad, we want to make a change.' We identified the problem as indiscipline and we tried to bring discipline, and orderliness into the system. By the time you knew was happening, people had started adapting to change. Buhari identified the problems and started working on them. All of a sudden, there was a problem within the system and the fine government was brought down. I left with the Buhari regime, moreso when a few of us were picked up.


"But my satisfaction today is that more people clap whenever I am being introduced as a former governor under Buhari. When I go to Ilorin now, there is no way people will not say, 'Oh, so-so and so was done under Latinwo or Buhari regime.' It gives me satisfaction. It means that they saw something in you and your contribution that was special," he said.


As a former military governor, Latinwo wants to remain as simple as possible. He said he does not long for the paraphernalia of office. "The legacy left behind by leaders should be the priority of a former leader, instead of the fleet of cars or mansions you built," he said.


There is no denying the fact that many of his colleagues became very wealthy after leaving the force. When Spectacles asked Latinwo whether he does not feel envious of these people, his response was sharp: "It doesn't bother me because that is not my priority. I come from a fairly comfortable home. My father was one of the very few important people in Offa. The tallest building in that place belongs to my brother. I saw wealth, I saw comfort as a child. Things like that don't bother me. Come to my house in Ilorin, it is just a simple three-bedroom flat – no waste, no extravagance. I use cars just to take me from one point to the other. I don't have jeeps. I feel comfortable with my life. You must begin to see satisfaction wherever you find yourself. But if you choose to be envious or extravagant, there is no limit to it; it is up to you. I go to bed by 8.30 p.m. and wake up around 2 a.m. and read or watch the TV. I have peace of mind. I feel satisfied that I can come out and say whatever I feel on any issue. I don't envy anybody. You can even bring your helicopter, I don't see it. I don't go out to seek to do what I am not capable of doing."


The Economic and Financial Crimes Commission has a soulmate in the former military governor. According to Latinwo, the tiff between the AGF and the EFCC was unnecessary so far as the aim is to rid the society of corruption.


"Mr Minister of Justice should be there; let him do his job. The Yoruba people say if there is a snake coming into the house, you give the father the cutlass, the mama holds the broom and the child holds the calabash, it doesn't matter who killed it as long as the snake does not escape. But the father should not go to the front and say 'I am the man in the house, so I should be the one to kill the snake.'


"I have the highest respect for EFCC chairman, Mallam Nuhu Ribadu, and I think he has made tremendous contribution to the development of this country. He is a man of courage, determination and the highest level of patriotism I have ever seen in this country. I don't want to see him as a policeman, I see him as a gentleman committed to his job."


Latinwo can be very blunt. He told Spectacles that messing around had never been part of him, even when he had the opportunity to indulge in womanising.


He said, "I have only one wife, I am disciplined and very straightforward. I don't mess around. When I was a young officer, of course, I had fun. But the moment I got married, everything stopped. I have four children and a wife, and I am going to remain like that. I respect the religion of Islam, but I don't buy the idea that you must or can marry more than one wife."